Pregnancy Induced Depression, or Antepartum Depression, is a Biological Illness that involves changes in Brain Chemistry, Instigated during Pregnancy by Hormonal Changes and Exacerbated by the Numerous Changes and Stresses that a Mother faces during Pregnancy. According to The American Congress of Obstetricians and Gynecologists, 14-23% of Women Experience Depression in Pregnancy.
Because a Mother who is Depressed does not have the Will or Desire to Adequately Care for Herself or her Baby, Antepartum Depression can present Dangerous Health Risks to the Mother and Child. Depression during Pregnancy can lead a Mother to make Poor Nutrition Choices, Alcohol or Drug Consumption, and even Suicidal Behavior; all of which can cause Premature Birth, Low Birth Weight, and Developmental Problems for the Baby. Infants born to Depressed Mothers may also be Less Active, show Less Attention, and be More Irritable and Agitated than Babies Born to Mothers who are not Depressed.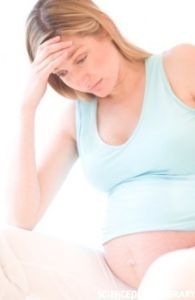 One of the greatest benefits of Pregnancy Massage is its ability to Relieve and Prevent Depression. A study conducted at the University of Illinois Urbana–Champaign Campus in 2004 showed that Massage Therapy provided benefits similar in magnitude to those of Psychotherapy in Reducing Depression. Because Depression is often the result of repressed or suppressed feelings and emotions, Pregnancy Massage is Helpful by being one of the Best Ways to Aid the Mother to Connect with the Deeper Feelings that Lead to Depression. A comparison study with Depressed Teenage Mothers showed that Massage Therapy Exceeded Psychotherapy in Relieving Depression, as Massage also Altered Behavior and Hormone Activity. Researchers at Duke University and the Miami School of Medicine found that Massage reduces the biochemical levels of Cortisol and Norepinephrine, associated with the High Stress that can lead to Depression. While at the same time Massage increases levels of Oxytocin and Serotonin, related to feelings of Love and Well-Being.